HIDEAGATE: The Best Retractable Dog Gate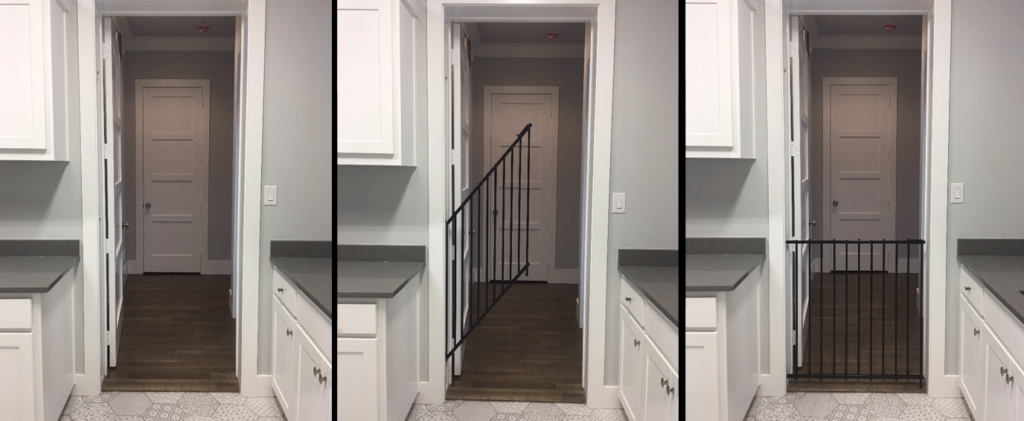 The HIDEAGATE is a durable, retractable dog gate designed with luxury in mind.
For decades, homeowners have been struggling to find a way to keep beloved family pets safe and separated from certain areas of the home. The dreaded, bulky removable gates that latch into doorways often fit poorly, difficult to operate, cheaply made and/or cannot withstand the determination of a large dog.
Introducing HIDEAGATE – the strong, sleek, cutting-edge interior gate that inconspicuously folds into the doorframe when not in use.
Why use flimsy, unattractive removable dog gates when you can HIDE-A-GATE? The innovative design makes HIDEAGATE the most effective indoor, retractable dog gate on the market.
Veteran custom home builder Drew Walling of Drew Walling Custom Homes near Dallas, Texas and his wife Tiffany created HIDEAGATE while building their own home. The couple, who have two children and a large dog, wanted a sleek, modern, indoor dog gate that could easily be hidden when not in use.
"We certainly didn't want a cheap-looking, hard-to-operate pet gate from a local store," Walling said, "So we invented HIDEAGATE, a streamlined gate that collapses and tucks neatly inside of the wall when not in use. HIDEAGATE even can be installed at the top and bottom of staircases."
HIDEAGATE is made with 14-gauge steel tubing and is powder coated. It can withstand daily wear and tear, gnawing and chewing. HIDEAGATE adjusts to fit most standard door frames and can be installed alone or in conjunction with a pocket or swinging door. When not in use, HIDEAGATE simply folds into the doorframe. HIDEAGATE's sleek, modern design makes it both fashionable AND functional – a popular addition to any new home.
The demand for HIDEAGATE has soared since Walling installed HIDEAGATE in his own home.
"We have been asked to install HIDEAGATE into every single home we have built since the original was created for Scout, our dog," Walling said. "We look forward to changing the way people see pet gates from now on and making HIDEAGATE a household name."
How It Works:
Benefits of our Retractable Dog Gate:
Sturdy, durable and made with professional-grade materials.
Easy to use and can hide when not in use.
Looks luxury and fits the aesthetic of your new custom home, yet doesn't sacrifice functionality.
You don't have to store, install, uninstall and reinstall every time you want to use it.
It hides within your wall like a pocket door!
HIDEAGATE Sizes Available:
We offer four sizes of the HIDEAGATE: 32", 36", 42″ and 48".
Both the 32" and 36" gates come in a prebuilt frame that is 30" deep. The 48" HIDEAGATE mounts to your framing and also needs 30" of space behind the stud it's attached to.
For any larger spaces, you can get two gates and have them come from opposing walls.
For custom inquiries, contact us.